You might find teenagers who would say that moving was one of the best things that happened in their life, but it would be in hindsight.
In foresight, moving is the worst thing to most of the teenagers.
They have recently and fairly developed an idea about what is life. They don't really know what's a comfort zone, yet they have it with their friends and the environment they have set for themselves.
Then the news of moving comes – shattering their comfort zone and challenging them to start life again from a new perspective.
They lack the requisite experience and knowledge to do that. Moreover, it's also not the right age to demand this from them.
Clearly, you have an idea by now why it is difficult for teenagers to move. But don't worry. We, at Movevan, will help you with moving with your teenage kids.
From how to break the news to how to proceed further from there – we have some important tips to share with you.
If you are looking for man with a van service in Croydon, Surrey, London, Essex, Sussex, and Kent, do check with us. You can get an instant quote in less than 30 seconds.
This blog is the part of the series – How To Plan Your Move When You Have Children. See also –
– The Best Tips You Can Get For Moving With Your School-Age Children
– How To Plan Your Move When You Have A Baby On Board
Let's begin.
Understanding The Scenario
Before you proceed further with moving, you should first understand the situation from your teen's point of view. Knowing their struggles, opinions, emotions, mindset, etc. will help you deal with the situation in hand more effectively.
For your teenage kid, moving is more of an emotional challenge. If they are able to come to terms with it emotionally, moving becomes far easier for them.
Moving can become a serious concern if your teen faces or has faced troubles in school like bullying, teasing, etc. It's better to go for counselling in such situations.
The circumstances under which you are moving matters equally. If it's happening due to something positive like better job opportunity or something negative like divorce, death, etc.
Do not enforce your way of looking at things on your teen. Instead, understand their perspective and try to reach a middle ground.
You can't expect them to 'simply understand'. You will need to invest your time and patience with your teen to help them with moving.
How To Help Them Emotionally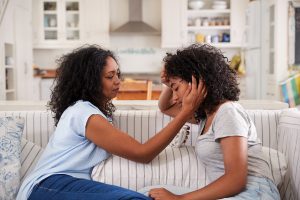 Breaking the news
Do not wait to break the news to them. As soon as you are sure you have to move, let your teen know so that they have plenty of time to process the news.
Anticipate an overwhelming emotional reaction from your teen. Do not try to make them understand there and then. Give them space to react out and wait for them to calm down.
Have an open discussion. Explain to them why you have to move, why there is no other alternative possible, and what all is going to change. Encourage them to ask questions and open up about their feelings regarding the move.
Preparing them for the move
Make them feel they have control over their life decisions. Consider their choices regarding home selection, school selection, and other decisions.
Make them feel you understand how important their friendships with their friends are. Tell them the measures they can take to maintain long-distance friendships and if it would be possible to visit their friends.
If you have opted for counselling sessions for your teen, try to accompany them to their sessions.
Involve them in moving preparations. Ask for their help in packing stuff. Encourage them to pack their own stuff.
Revisit old memories whenever you come across their old belongings, albums, or something that holds significance.
Choose to donate things that you don't require anymore. Whether you are donating to old age home, orphanage or any other place, take your teen with you. It would likely humble them and make them feel grateful for what they have. All this might fill them with positivity for moving.
Bidding Farewells
As the time to move comes close, your teen is likely to be overwhelmed with different emotions. Helping them bid a proper farewell to all important aspects of their life would make them feel emotionally calm.
Prepare a farewell party for them. Invite their closest friends and plan a surprise. You can take them on a camping trip, a picnic or any other activity your teen loves to do.
Make a note to visit places in the city that holds a special place for your teen and for you all as a family.
After Move
Help your teen adjust to the new school. Ask them about their day and if they are facing any troubles in academics or school environment. If you think they are hiding from you about being bullied, look for signs of being bullied.
Be available to them. Plan activities together. Check restaurants, stores, and malls together. Go for a picnic, hiking, or weekend trips to nearby travel spots.
How To Help Them With Practical Aspects Of Moving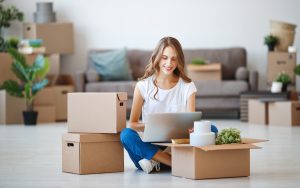 School
Admission to a new school should be the first thing in your priority list. Make sure you engage your teen in the decision-making.
It's especially difficult to move for your teen when they have to leave school mid-term. Check with your teen's teacher to know about their performance. If they lag academically, it's best to hire a tutor for them at the new place. The tutor would help them cover the syllabus already covered in the new school and make sure they don't lag behind.
Their Activities Outside School
If your teen is a part of a sports team or an academics group or any other activity, you need to make sure they find equally good opportunities at the new place. Before shifting, look for the best training centres in the area and ask about admissions.
What To Do When Situation Really Seems Terrible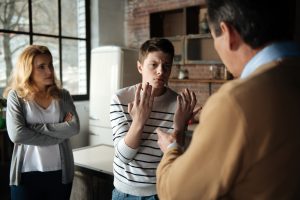 If your teen is not coming to terms with moving, it's likely going to be an unpleasant ride till the time they don't get settled at the new place. Here's what you can do to make the situation better –
Do not enforce your thinking in any case. Give them the space to react and be themselves.
Try to spend more family time together so that they don't feel alone.
Look for any signs of depression in your teen and seek out professional help if required.
Encourage them to do their favourite activities so that they get their focus off moving.
Moving is taxing in itself. It is not possible to move and be there for your family at the same time. It's best to move with movers whilst your family goes through the transition.
For the best man with van in the UK, connect with Movevan today.
We offer A-Z moving services at the lowest prices, guaranteed! We understand how emotionally overwhelming moving can be. We have helped many families move in our 22 years of experience. So you can rely on us completely.
For moving man and van hire in Croydon, Surrey, London, Essex, Sussex, and Kent and for European move, visit Movevan now. Get your instant quote now in less than 30 seconds!