Parents who have experience of moving their house with a baby can vouch that it can become a more difficult ordeal than the pregnancy phase!
It's next to impossible to divert your attention from the baby and towards packing. The moment you think of packing your wardrobe, your baby starts crying. You end up tending to his/her care rather than starting packing from the top of the wardrobe as you imagined to.
This is one of the numerous challenges you will face when moving your house with a baby. Whilst you can find many guides on the internet with step-by-step instructions of how to move with a baby – there is, unfortunately, no one solution that fits all.
What's better is to understand the challenges that every parent with a baby would face whilst move. This will help you plan your move efficiently and execute it effectively.
This blog is part 1 of the Movevan's series – How To Plan Your Move When You Have Children. When we say baby, we are talking about newborns (0 – 4 weeks), infants (4 weeks – 1 year), toddler (1 year – 2 years), and preschooler (3 years – 5 years).
Part 2 talks about moving with school-aged children.
Part 3 talks about moving with teenagers (Coming soon!).
Let's begin.
Challenge #1 The Safety Of The Baby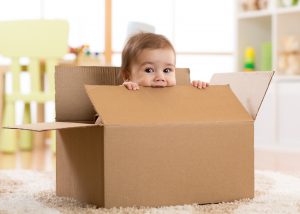 The safety of the baby is the topmost concern when you know you have to move. There are many things that can go wrong, which you don't even want to think about. Here are the major safety concerns you should keep in mind –
Before The Move
Packing means a lot of packaging material – markers, tapes, cardboard boxes, polystyrene, bubble wrap, etc. All this could be hazardous for your baby. Ensure that it is out of the reach of the baby at any given time.
Packing also means emptying your cupboards, garage, basement, attic, etc. The items from these places could contain pointy objects, poisonous items, rusty objects, etc. You should make sure that you immediately pack the items from these places as soon as you get them out.
You should also be careful with disassembling of furniture and other stuff. They can have pointy edges, nails pointing out, and might have some small pieces of wood, plastic, etc. broken down. You should make sure to pack carefully and swipe the place afterwards.
During The Move

It is strictly advised that your baby should not be present in the home during loading from your old home and unloading to the new home. If possible, opt for daycare services or ask for your friends or relatives to look after your baby.
If it is not possible, you should ensure that your baby is in a room with a safe environment and under the supervision of an adult.

 After The Move

Dispose of the packaging material immediately as soon as you unpack a box.
Don't open all the boxes immediately. Instead, open according to the room. Also, as soon as you open the box, keep the item at its place (i.e., out of the reach of your baby).
Like whilst packing, you should be careful whilst assembling furniture and other stuff. Take the help of professional if required.
Make the home baby-proof. This starts with knowing which rooms are accessible by your baby (especially in your absence) and safeguarding them accordingly.
Give extra attention to any electricity flaw, plumbing flaw, broken window, damage in floor/wall, etc. that could be hazardous for your baby.

Challenge #2 The Health Of The Baby

Moving can become worse if the health of your baby gets compromised. What factors do you need to keep in mind so that your baby's health doesn't suffer?

Before The Move

Comfort for babies means routine. Make sure your baby does not get off the routine whilst you prepare for your move. If your baby gets uncomfortable, this could mean more mood swings and an upset stomach.
Lots and lots of dust is a common scene at a home that is preparing for the move. But it also means lots and lots of germs and bacteria. Make sure you take packing slowly and clean up immediately once you are done the packing.
Check with your pediatrician before you move. Inform your doctor about the move and ask him/her about any precautions that need to be taken specifically in case of your baby.
Collect the medical records of your baby. In case your baby is on medicines, check with the nearest pharmacy in the new place for the availability of prescribed medicines.
Look for a new pediatrician beforehand. You can search online or ask your current pediatrician for recommendations.
Pack all your baby's essentials separately. These should be easily accessible and should contain supplies of at least 3 days.

 

During The Move

Make sure your baby is well-fed and hydrated throughout the moving day.
Look for any signs of discomfort during travelling.
Irritation and anxiety are common signs in babies on the moving day. Keep their favourite toys along with you. You can distract them with toys or activities they like to do.

 

After The Move

Set your baby's room first so that he/she is safe and comfortable.
Keep a close eye to how your baby is responding to the new place – climate, water, air, environment, etc. In case your baby shows any allergic reaction, check with a paediatrician immediately.
Your baby will demand more attention than usual whilst he/she gets used to the new environment.

Challenge #3 How To Get Actually Get Done With Packing

That was pretty much all concerning your babies during a move. Whilst you are busy handling the safety and health of your baby, how do you actually begin your packing and be done with it?

The same question arises after a move – how do you actually begin unpacking and be done with it? Here are the top tips that will work for you.

Prepare a moving calendar. Prepare in as much advance as possible. Divide the tasks in the smallest threads that you can perform without compromising your baby's needs.
Get as much help as you can. You can opt for childcare services or ask your friends and relatives for help.
It's next to impossible to move all on your own. It's best to get a man with a van in the UK for moving. They can help you with disassembling and assembling your furniture, packaging, loading/unloading, and moving.

Challenge#4 How To Not Compromise Your Own Health Whilst Moving

Amidst preparing for the move and taking care of the baby, it's likely that you will take your own health for granted. Professional help with whole house and bathroom remodel you can get at Elite Remodeling in Plano, TX. That's why, we, at Movevan, decided to give you a reminder about it.

Do not forget if your health is in good condition, you will be able to take care of your baby better. Here are some important tips –

Do not stress. Stress will only increase your blood pressure but it will not increase the speed by which things will get done.
Do not commit professionally or personally. The last thing you want is to disappoint your boss or your friends/relatives for no mistake of yours. Know how much you can handle without exhausting yourself and commit accordingly.
Take extra care of your diet, water intake, and sleep.
Get yourself breaks whenever you get time for it. It will help you de-stress.
Lastly, contact Movevan for affordable man with a van.

That was all you need to know about planning your move when you have a baby onboard. Movevan makes moving easy for you and your family. You can put your complete focus on your baby whilst we handle the rest.

Whether you are looking for man and van for long-distance, local, or to/from Europe – we do it all. Contact us for man and van hire in Croydon, Surrey, Essex, Sussex, London, and Kent.

Are you worried about man and van prices? You can guarantee the lowest prices with us. Get your instant quote now.