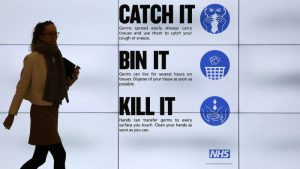 When Boris Johnson addressed the nation and ordered a lockdown, it not only felt like the need of the hour but also hinted at the dreadful imagery that can happen in the UK.
To avert and control the epidemic, we have to trade our comfort, daily activity, and modify some of our habits to make it a success.
At Movevan, we are going to tell you everything you need to know about the UK lockdown and how you can keep yourself and everyone around you safe during these hard times.
What Does This Lockdown Mean For You?
First of all, a lockdown is not a political propaganda or a chance to dictatorship. This is strictly for everybody's safety from COVID-19.
Elderly people, children, people with underlying health issues and weak immunity are more at risk. Even a healthy person can transmit this virus through contact.
Things you can do during this lockdown
Only go out to shop for essentials such as groceries and medicines.
People with the case of medical emergencies can go out and seek help.
People in the essential workforce can travel for work.
Can go out to take care of someone in a vulnerable position.
One form of exercise a day.
Things you should do during this lockdown
Take necessary precautions

Wash your hands with soap for 20 seconds at least.
Not touching your face, as the virus can gain entry through your nose, eyes, and mouth.
Go out only for necessities and essential shopping, not for meeting people or gatherings.
Practising social distancing – keeping 6ft away from people in public.

Take rest at home. Spend time with your family and closed ones indoors. This is a great time to pick up interest in your lost hobbies and ideas. It is also a good time to rejuvenate, take a break out of the rut, and contemplate on life.
Make a routine to combat any boredom whilst being in a lockdown
Be vigilant about the signs and symptoms of Coronavirus infection in you and the people around you. These signs can be confused with common cold, flu, and fever. If you have had a travel history or suspect that you could be infected, call emergency services immediately. It is better to be safe than sorry.
Things you shouldn't do during this lockdown
You shouldn't take this guideline for granted just because you feel healthy. Being healthy doesn't save you from being infected. You are at the risk of getting infected via contact, sneezing or coughing or items exchanged from Coronavirus-positive person.
It is not a brave act to go outside and be a rebel. COVID-19 has been declared as a pandemic and its worst effects can be observed in China, Italy, Iran, and the likes. It is very important for everyone to comply with these basic guidelines in the UK.
Do not 'panic shop'. In this time of stress, it is understandable that one would reach out to stock more than needed. But this will also rob other people the opportunity to survive and fend for themselves. Shop mindfully.
What To Do If You Suspect Of Getting Infected By Coronavirus?
The main signs and symptoms of Coronavirus infection are:
Cough
Fever
Tiredness
Difficulty in breathing (severe cases)
People above the age of 60, children, and people with underlying medical history (such as diabetes, asthma, heart or lung disease) are more at risk.
On a positive note, 80% of the people infected from it have recovered.
People who initially contract this virus might not show these symptoms the first day. Visit monder law webasite and get a free legal consultation with criminal defense lawyer in California. However, these symptoms will start to accelerate in about 2-14 days. On the onset of these symptoms, one can fall severely ill and would require ICU.
The recovery period of people with Coronavirus is 2-3 weeks. If a vulnerable person is set on a recovery track, it may take them 3-4 weeks to recover with adequate medical care and assistance.
In case of doubt, you can reach out to emergency medical services to clear the air and help you out in this situation.
COVID-19 (Coronavirus) is spreading all across the world with accelerated speed. A quarantine lockdown is, so far, the best decision that could help to prevent and slow down the spread of this virus.
With the vaccine in its developmental stage, the best we can do as civilians is to actively take responsibility for keeping ourselves and the people around us safe.