Moving is not just physically but emotionally taxing as well. Whilst we can comprehend the reason for moving, our pets cannot. This is why making moving comfortable for them is important. It is necessary to make them feel at ease whilst you would be busy in checking off all the boxes and moving them.
We are going to give you a short guide on how to make moving with your pet possible without stressing them. Their emotional wellbeing is as important as yours. These tips will help you prepare for everything beforehand. This way, you wouldn't be tangled in cellophane, tapes, and boxes whilst trying to frantically manage your pet.
For hiring the best moving company in London, you can contact Movevan now to schedule a day.
Here is how you start.
1.     Have a talk with the society secretary/landlord before moving in
You would need to observe that the rules and regulations of the society that you are living in is pet-friendly. Ask your landlord or society secretary about the rules regarding pets.
Make special request if needed so that you minimise the risk of conflict (or eviction) in the future.
2.     Make a suitcase dedicated to their needs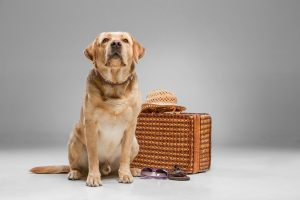 This suitcase or bag should have everything that your pet needs for their daily activities. This can have their meals, treats, toys, and extra supplies that they would need. Making such a kit would be a lifesaver when you want to make them feel comfortable anywhere.
If you are going to have pet movers to transport your pet, this suitcase would help them to attend to their needs.
3.     Inform your veterinarian before you leave
If you are changing cities and town, you might want to contact your vet before that. If your pet has medical issues, they will write you down prescriptions that would come in handy during the move. They will also tell you how you can manage their stress during this time.
4.     Relocate them to a quieter and safe space
You can shift them for a few days at your friend or family's place who knows how to take care of your pet. Alternatively, you can find a pet hostel that would meet their needs for daily nourishment.
If both the options are not feasible to you, you can clear out one room for them and keep them out of action.
5.     Accompany them when you move out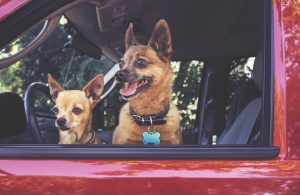 When you are finally moving with your pet, take them along with you in your car. Going with you on a familiar vehicle will feel a lot better to them. In case if you don't have a car, just accompany them and put a blanket over their carrier. This will help them keep calm and not be terrified of changing surrounding.
6.   When travelling by air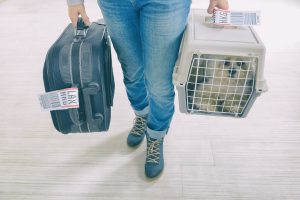 Make sure you know the rules and regulation of the airline when you are flying with your pet. Take all the medical records and necessary documents that you would need to bring them aboard.
You might not be able to be with them during their pet transport, but at least, you can make sure they are safe with the airlines by telling them about any special needs that your pet may have.
7.     Figure out the best way to feed your pet for the moving day
Sometimes it is better to feed them in the morning and let them relieve themselves by the afternoon before you hit the road. Whereas sometimes, it is okay to get them a few chunks of meal to keep them going. It is best to ask your vet to guide you on what and how to feed them on moving day.
8.     Make sure you keep them comfortable in their carrier
Don't put them out unless you have not arrived at your destined location. If the journey is going to be a few hours long, make sure they have eaten enough to go on for the day. Keep them hydrated and take care of how they relieve themselves when you are travelling.
9.     Keep them inside till you haven't finished moving
When you finally move to a new place, make sure that you do not let them out till everything is done. It would be difficult to search for your lost pet in a new neighbourhood.
So it is better that you check the room before, close the windows, and then let them play in one area until you are done. Make the new room comfortable for them as you did before moving out.
10.     Arrange your home before you move in with your pet
This is one of the best options if you can afford to do that. You can leave your pet at your family or friends till you settle in completely. Alternatively, you can keep them in a pet's hostel/accommodation.
This way pet relocation becomes a little easier for both you and them when you take them home after you are done with the process.
11.     Make sure to update their information
You would need to update their information in the medical records and also their tags. If you are going to live farther than your previous location, then you should find a new vet.
You should research about the best vet in your area so that you can get to them in case of emergencies.
12.     Do a little more research about what can stress out your pet
Some animals are more susceptible to stress than others. Your pet's breed may or may not have good tolerance to stress due to change in environment. This holds true for small pets. Here are some of the things you can do with your pets.
Fish
You can purchase a flexible and versatile transparent bag in which you can transport them. Ask a local pet shop to get you one. But it works only if it is about short distance. When it is about the long distance, prefer giving away your pet fish to someone who would adore them and take care of them as much as you did.
Guinea pig
Guinea pigs often take a lot of stress when they are put in an unfamiliar place. Their hearts take a toll during environmental change. Make sure you make their carrier warm and comfortable for them during the move.
Birds
In no case should you be overconfident and let your bird out of the cage. Once they fly off, they are gone. They might be the friendliest and the most obedient of birds in a familiar environment but in an unknown one, they might fly off. Cage them till you get to the new place where you can let them fly around safely.
13.     Keep a close eye on their diet
Some pets take anxiousness to their appetite and lose it. It is quite normal to witness a change in appetite for a day or two when you finally move to a new place. Make sure it doesn't last longer than 3 days.
You can contact your vet to know how you can make them feel more comfortable in a new environment.
14.     Keep a close eye on their behaviour change
It is possible that your pet might feel a little cranky and act all stressed in a new location. It would be a better idea if you play with them to make them feel comfortable and relaxed. Also, make the area where they live as comfortable as you can.
These are the things that you can do to make moving with your pet as comfortable as possible. When it comes to making the process smoother and faster, get the best pet transport service! Movevan offers the best man with a van in Croydon, London, Essex, Sussex, and Kent. We also help you move to and from Europe.
Schedule a move with us by contacting us here.