We not only grow plants but also grow attachment towards them. Leaving them behind might be too unfeeling for you. If you want to take your plants with you, you need to plan your move a week in advance. This would prevent your plants from dying out in stress of environmental change. If you follow our tips, you will be able to move your plants without much problem.
Moving plants all by yourself can be hard. This becomes especially harder when you have heavy pots to carry. Some movers do not move heavy pots. So you need to first ask your moving company if they can help you with moving heavy pots and plants. Movevan offers this service. Contact us now to get started with your moving plan.
Here is how you can get started.
1.     Look at your moving options first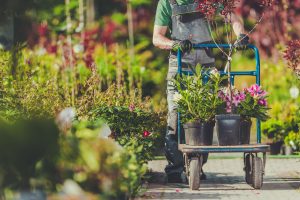 Are you going to move out on your own? Or are you just going to move the pots by yourself? Do you have a car or other compatible transport for it? Are you going to arrange for pot trolley movers?
You should also ask the moving company you hire if they also offer services in moving outdoor plants. You shouldn't sneak in pots or plants if they don't offer such a service. This move will count as a breach of contract and they wouldn't be liable for any kind of damage.
2.     Trim your plants first
You would need to give them a good trim and shave off dead twigs, leaves, and weed. Remove pest and freshen it up. Trimming will help you in maintaining the shape of the plant.
It would make it easier for you to bind it with a florist thread and keep it tidy whilst moving.
3.     Use newspaper to keep the soil in place
You can cover the soil in the pot with newspaper to prevent any kind of spillage. Wrap it around and over the soil and secure it with strong tape. This would prevent it from falling all over the place.
You can also use bubble wrap to safely secure pots that are prone to breakage.
4.     You can make the pots lighter
Sometimes the pots gain weight because of the amount of soil it carries. You can cut down the weight of pots by replacing 2/3 of the soil with landscape fabric and foam packing peanuts. You would need to fill the base with foam packing peanuts then add landscape fabric to it.
Add soil on top of it to finish the process. This makes for an excellent drainage system for plants as well.However, this setup would mean that you have to water your plant frequently. Add wool mulch on top of the soil to retain moisture.
5.     Re-pot them in plastic pots or bags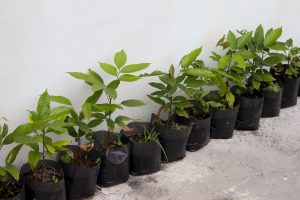 If you can afford to ditch heavy pots, you can re-pot your plants in plastic ones or a plastic bag. This would make it much easier for you to move the plants from one place to another without added weights of heavy pots.
Make sure you do this at least a week before moving so that your plants would be able to adjust in the new pot.
6.     Know the laws of the state you are moving to
Some breed of plants is not allowed to cross the border whilst some can. You need to check if the state you are moving to allows your green friends to move in along with you.
You can even ask your movers if it is allowed in the location you are going to move in. Moving heavy plant pots is difficult to do all alone. Hire Movevan to deliver your precious belonging to the new address.
7.     Keep the climate and weather in mind
If you are going to move out in summer season, you would need to make sure that you keep your plant well hydrated. When you are moving in winters, make sure that you water the plants two to three days before the move. This would help you in managing the health of the plant.
8     Try to keep them in a temperature-controlled environment
You can either ask your movers to arrange a temperature-controlled vehicle for you or you can do it by yourself. You can take your own car and keep all the pots in it while controlling the temperature.
You need to make sure the temperature you set neither freeze them in cold nor should it make it too humid to breathe.
9.     You can ship them if you want
You would need to ship your plants a few days ahead of your move so that you get them on your doorstep on time. You would need to bind the roots in a wet towel and wrap it in a plastic bag. After doing this, secure it in a box with enough bubble wrap and foam peanuts to keep it safe.
Make sure you mark your box as 'fragile', 'live plant inside' and with 'this side up' sticker as well.
10.     Keep cutting with you
Sometimes, it is not easy for you to move the whole plant. Sometimes, it is a tree that we are talking about.In such cases, it is better that you take a sapling or a fresh cutting out of the plant and re-grow it in your new location. Take a couple of such cutting with you so that it increases your chances of growing the same plant in your new garden.
This is how you can safely and successfully take a cutting:
You can only take cutting out of a healthy plant. So make sure you take pruning secateurs for the job. Cut out all the dead leaves and twigs out of the way.
Cut the lower leaves, big leaves, flowers, and buds. Cut it right beneath the node.
Get a potting mix ready along with rooting gel hormone.
Dip the node or the base of the cutting in this hormone and plant it in the new pot with the potting mix.
Get as many cuttings as you can. Make sure you water your cutting regularly.
Either you can wait till the cutting grows well enough to be planted in your new garden, or you can continue growing it in the same pot and maintain it.
11.     Give it away
You can give away your pots and plants to family members and friends. If you don't have such people who have a green thumb, you can post a request on social media. You can post an advertisement in the gardening community in your local area. This will ensure that your plant will be in a safe place, growing and loved as you did.
12.     Make sure that the moving company can assist you with your requestSometimes, you might just not want to leave a tree behind. What are the options that you can use? If the is a tree, you might need to hire a crane and then get assistance from the moving company to help you transfer it. It wouldn't be a one man's job.
This might also cost you a lot as well. So make sure you talk to the movers about the cost that would incur beforehand and make a decision.
Wrapping Up
These are the tips that would help you in moving heavy pots and plants to your new residence. You also know how to ship potted plants as well. You can take help of large pot movers, which would make the move a lot easier for you.
Movevan offers man van services for everything you require to move! You can contact us now and schedule a move date. We offer our services in London, Croydon, Essex, Sussex, Kent, and all over Europe. Get your instant quote now.